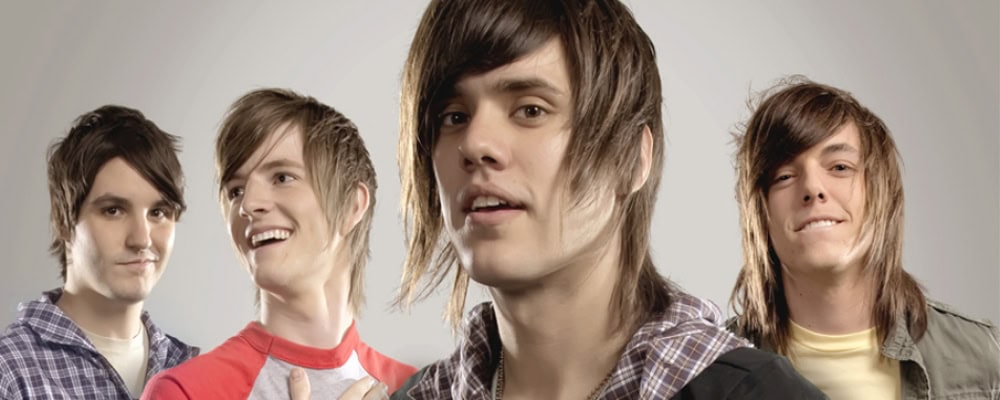 LATEST PRODUCTS

Everyone has a favorite fix: that one thing that gets the blood coursing through your veins and the endorphins firing in your brain. For Artist Vs Poet, that fix is music. Their debut album Favorite Fix, is aptly named, as it features each member's individual passion, creativity and love for music taking shape in the form of upbeat songs that will inevitably become their fans' favorite fix, too.
Produced by Produced by Zack Odom and Kenneth Mount (All Time Low, Mayday Parade, Cartel) and Mike Green (Paramore, Breathe Carolina), Favorite Fix contains twelve undeniably catchy, uber-melodic tunes, including the title track from the Damn Rough Night EP. Enlisting the help of Forever The Sickest Kids' Austin Bello, whose vocals are featured on "Damn Rough Night", and The Maine's John O, who collaborated on first track "Car Crash", the album has been given a new dimension. Singer Tarcy Thomason describes writing and recording Favorite Fix as "a blast… The subject matters are deeper, the music is better and it's the most diverse thing we've done to date. There is something on this album for everyone, and I mean that."
In the fall of 2007, singer Tarcy Thomason sat in his Dallas, TX home realized he had been missing making music, and decided it was time to do something about it. "I had not been in a band for a few months and it was driving me crazy, so I posted a MySpace bulletin, asking to get together and make some music with someone," Thomason said, recalling the band's humble beginnings. When Craig Calloway responded, the two hit the studio, bringing in Joe Westbrook on drums. They started playing local shows, gaining bass player Jason Dean and completing their line up after discovering Joe Kirkland on YouTube. Artist Vs Poet was born, and didn't waste time in getting on the radar of the industry.
Just a year after forming, the band was snatched up by Fearless Records, who released their acclaimed debut eponymous EP in November 2008. The band quickly captured the hearts of a fast-growing army of fans, gaining 3 million total plays and 50,000 friends on MySpace, and the EP going on to sell over 12,000 copies. The media soon followed in backing the band, with Alternative Press naming them one of their 100 Bands You Need to Know, while their video for "Runaway" won MTVU's 'Freshman 5', and their songs were featured on MTV's The Real World and Parental Control. The band released their second EP Damn Rough Night while on tour with Forever The Sickest Kids and The Rocket Summer in December 2009, and Alternative Press noted: "The four ultra-catchy songs on this EP offer irrefutable evidence that it is possible to write quality, radio ready pop-rock songs in 2009". The EP hit #9 on the iTunes Alternative Chart, and #98 on the overall chart. The band has already toured The U.S. with The Maine / We The Kings in support of Favorite Fix, and spent a full summer on Vans Warped Tour. Artist vs Poet then joined Mayday Parade, Breathe Carolina, Every Avenue and Go Radio on the 2010 Fearless Friends Tour.
Their mission is a simple one: to reach as many people as possible with their music. "To make people smile and take something that is worthwhile and life lasting from this is our main goal," Thomason said. With an album as grin-inducingly infectious as Favorite Fix? Consider it mission: accomplished.

LINE UP

Joe Kirkland -
Guitarist, Vocals