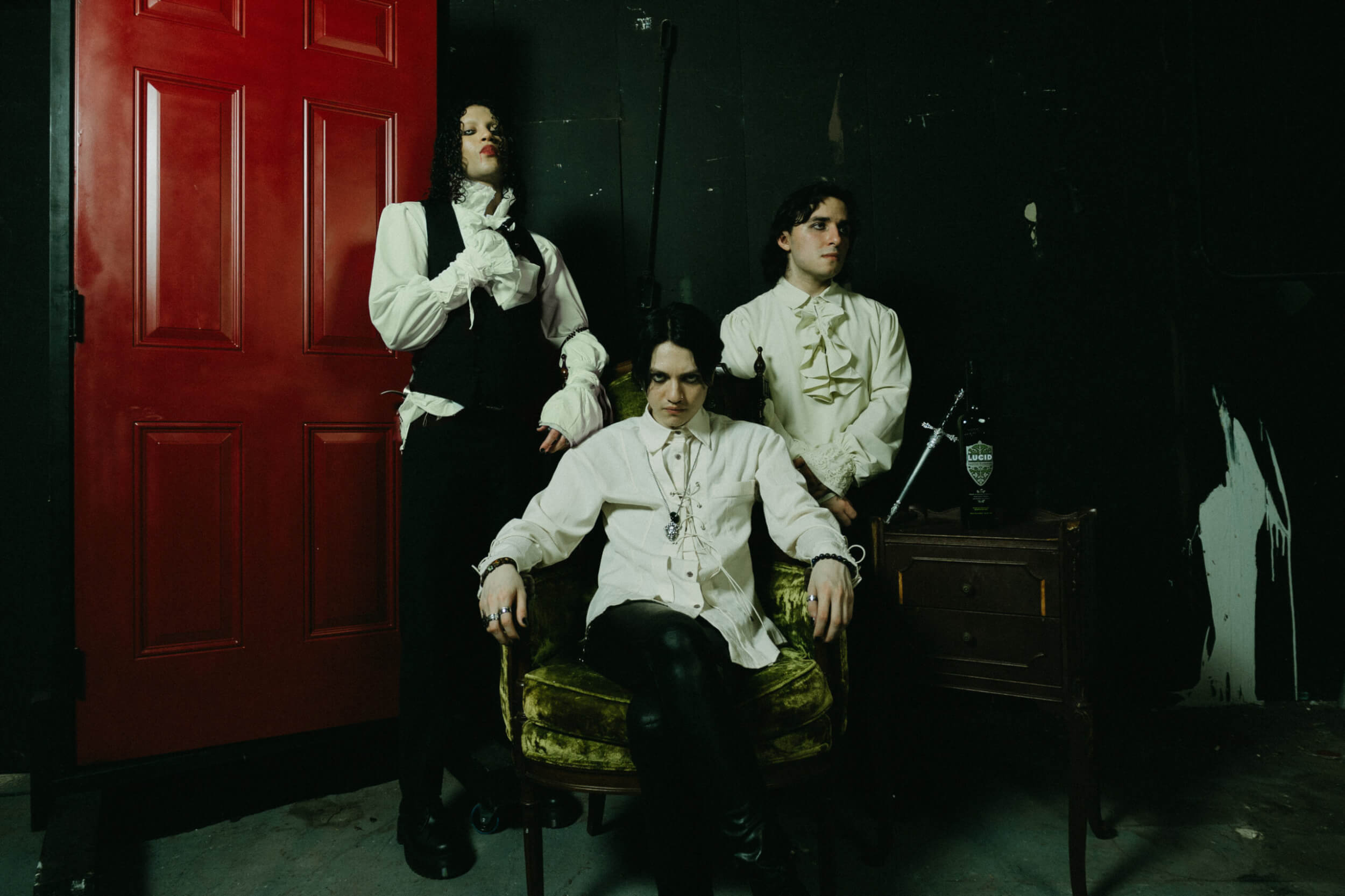 No matter how sunny it may be in Broward County, a different energy exists beneath the surface. Each generation it seeps out, either in the area's shock rock luminaries during the nineties or a bevy of post-Soundcloud rap stars in the twenty-tens. That brings us to The Requiem. The Broward County, FL trio—Damien [vocals], Felipe [lead guitar], and Salem [bass]—piece together elements of alternative, rock, emo, and even eighties into an uncompromising and undeniable vision of what music can be without boundaries. After piling up over 1 million streams independently and stirring up buzz, the group captivate on a series of 2023 singles and more to come.
"We want to represent our generation in the best way possible," exclaims Damien. "Rock music has lost the sloppiness and the vulgarity it used to have. When you're young, you need to embrace that attitude and danger. We want to bring all of that back to alternative music."
The guys initially rallied around this mission back in 2020. Damien teamed up with Salem and Felipe. Together, they nodded to influences as diverse as The Used, AFI, Pierce The Veil, and Finch as well as Ozzy Osbourne, Mötley Crüe, and Genesis. They gained traction with the independent single "Corpse Party," reeling in 371K Spotify streams and counting. The band landed a deal with Fearless Records. In the meantime, the musicians continued to write and record.
The Requiem introduce their next chapter with the single "Diary Of A Masochist." They dress up guttural guitar with vaudevillian piano and emotionally charged vocals. Screams bleed into chantable choruses and a cinematic ebb and flow as each sonic twist and turn will surprise. It culminates on an eerie invitation, "Stay forever by my side."
"It came about when we were in this phase of writing over Discord," Felipe recalls. "We tried to convey this creeping sensation on the track. It has a distinct swing to it."
"Lyrically, it's based on the archetype of a character who kills men and collects their blood like Elizabeth Bathory," Damien reveals. "It comes down to manipulation. Bathory drank blood to stay young. There's a clock ticking."
On the other end of the spectrum, "I'll Be Late For My Funeral" grafts a disarmingly catchy hook to a galloping groove powered by melodic riffing.
"It's about irresponsibility in life and coming to terms with it," the frontman elaborates. "We aren't necessarily embracing it, but we're accepting that sometimes we can be irresponsible and neglectful to ourselves in the highest degree, especially in our youth. The expression is, 'I'm so irresponsible I'd even be late to my own funeral'."
In the end, The Requiem don't just usher in a new era for Broward County, but for rock music at large.
"I want people to actually be able to relate to the music and identify," Damien leaves off. "It's the same way I felt my favorite artists spoke for me."
"Our goal is to be our most pure form," Felipe concludes. "These songs thematically reference growing up, the struggles of becoming an adult, and lessons we've learned."

LINE UP

- Beacon Management Group